Welcome to WeHoliday.co.uk
Other places in Canary Islands
Holidays to Fuerteventura
The World
>
Spain
>
Canary Islands
>
Fuerteventura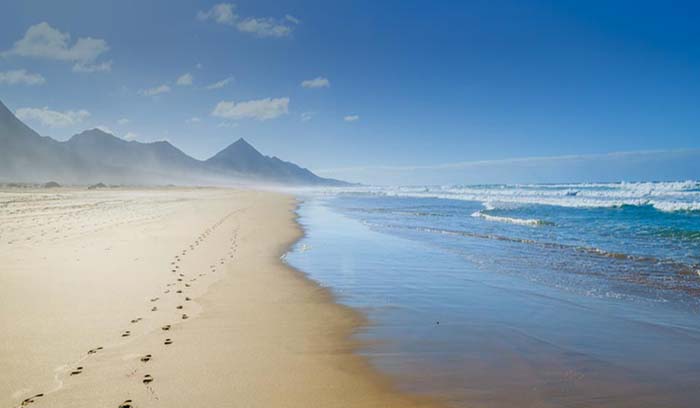 Overview
All Inclusive Holidays to Fuerteventura are a beach-lovers heaven and a great destination to relax. Situated just off the coast of Africa and Spain, in the middle of the Atlantic Ocean, it enjoys year round great weather. However, it is the beaches that really draw people to this exotic and isolated island. With some of the longest beaches in Europe, these stretches of soft white sand offer the perfect haven of relaxation. With a volcano, a semi-arid desert haunting the middle, and a varied flora and wildlife, including the endangered Egyptian Canary Vulture, you can get lost in wonder exploring the island. Fuerteventura is a tourist port of call, and all inclusive packages and flexible budget deals are in abundance.
Get up and...
For those looking for a more active holiday, take advantage of Fuerteventura's many great attractions, including:
Water sports - Like all the Canary Islands, water sports is very popular in Fuerteventura. From deep-sea fishing, to surfing and wave windsurfing in the north, there is plenty of opportunity for the water sports enthusiast.
Golf - With year round great weather and little rainfall, golf is an ever growing hobby in Fuerteventura. With courses springing up everywhere, soak up the sun and scenery and work on your swing in this rising sport.
Glass bottomed boats - Take a trip out and observe Fuerteventura's underwater marine life whilst enjoying the thrill of boat riding in this popular excursion. Available at most marinas and ports.
Submarine Excursions - Take a submarine 30 metres underwater to gaze at the crystal clear water and the tropical shoals of fish and marine wildlife off the coast of Fuerteventura.
Camel rides - Hop onto one of these wonderful creatures and explore the semi-arid desert and the base of the Calderon Hondo Volcano. Guided tours available through most of the island.
" Dunes Nature reserve - Located just outside of Corralejo, step into a Sahara-like environment and explore the ever-shfiting sands of Fuerteventura. Home to a startling array of adaptive flora and fauna, such as the tobacco tree, escape civilisation and lose yourself in this adventure.
Relax...
Beach holidays in Fuerteventura are sun-seekers bliss. With miles of almost untouched soft golden sands, over 3000 hours annually of sunshine, and clear, warm seas, it is the beaches that make Fuerteventura a special place. The island is a pleasant contrast to its busier neighbours, and is graced with lovely long beaches, small, almost mythical coves, and sheltered bays. The laid-back and peaceful atmosphere makes for a perfect relaxation holiday. Also try one of the fantastic all inclusive resorts on offer.
Culture...
Fuerteventura has enjoyed a quieter history compared to its cousin islands, mainly due to its semi-arid desert climate. It was inhabited during the 11th century BC mainly by Phoenicians, and continued to be a mainly tribal country until the invasion by the French in the 15th century AD. It became a province of Gran Canaria and accepted into the Kingdom of Spain in the 1927. The years that followed saw a population decline as many left due to the desert conditions of the island, but in the 1970s Fuerteventura saw a massive population boom after the discovery of a new economical outlet-tourism.
Situated not 60 miles off the coast of Africa and the Sahara, in the Atlantic Ocean, Fuerteventura is an UNESCO biosphere reserve, limiting the amount of development in order to keep its natural beauty and lure. The island consists of desert like conditions in the centre of the island, and volcanic rugged landscapes, surrounded by soft white sand and the crystal blue waters of the Atlantic Ocean . The Fuerteventura population are laid-back and welcoming.
Shopping...
With the opening of the new modern shopping mall, Las Rotandas, shopping in Fuerteventura is now full of possibilities. British designer labels such as H&M, and big Spanish names such as Zara reside here. Most towns also have a weekly market, when you can browse at leisure to find that memorable holiday souvenir.
Nightlife...
Fuerteventura has a low-key laid back atmosphere, perfect for families or quick romantic get-aways. There are many open air bars and restaurants to grace at night, playing live music and showing sports. However, for the more active, there are some discos, pubs and live music venues in the tourist town of Corralejo.
Perfect Destination for...
Holidays in Fuerteventura are a perfect choice for family holidays and somewhere to relax. There are Resorts and hotels aplenty, so it is easy to find a deal that best suits you. All inclusive holidays.
Weather...
The weather in Fuerteventura is pleasant all year round. Fuerteventura "suffers" with very mild winters of 15°C-22°C, and scorching summers of over 30°C. Most of 147mm of annual rainfall falls throughout the autumn and winter. The sea winds blow the dry, hot Sahara winds away from the islands, culminating in an agreeable environment.
Resorts in Fuerteventura