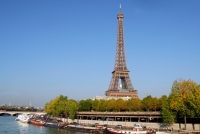 Prefer to book by phone?
Call our travel experts on
01737 336 568
Monday to Sunday 9am - 9pm

SAVE up to 10% on your holiday this summer when you book your flight & hotel. Sale ends 15th August 2012.

Paris probably has more familiar landmarks than any other city in the world. On a city break in Paris, the most popular attractions worth seeing are within the Boulevard Périphérique. Experience Notre Dame and the Eiffel Tower at sunrise or sunset. Walk along the Avenue des Champs Elysées from the Arc de Triomphe to the Place de la Concorde, or if you'd prefer shopping, a quick stop at Louis Vuitton or Yves Saint Laurent will do the trick.For lovers of art, the choice isvast. The Théâtre du Châtelet and the national theatres are a few of the best-known ones. Museums? The Louvre, Musée d'Orsay, and Musée des Arts Premiers are obvious choices.Now is the best time to book your flights and hotel in Paris. You'll soon discover, as others have, that Paris is enchanting, almost everywhere.
If you're just looking for a cheap hotel in Paris then click here to view our range of Hotels in Paris.
Amsterdam
from

£186.66

SAVE up to 10% on your holiday this summer when you book your flight & hotel. Sale ends 15th August 2012.


Amsterdam is a city focused around water and waterways. Beyond the the stereotype of 'smoke' and 'sex', Amsterdam is a bustling metropolis that oozes history and charm. When on a weekend break in Amsterdam, a ride along the canals in one of the many glass-sided canal boats is a must. Pass alongside the facades of old patrician homespoint out the famous Weepers' Tower (Schreier-storen), where the tearful wives bid Dutch sailors goodbye, and sail under the picturesque "Skinny Bridge" (Magere Brug) on the Amstel.
For fans of all things art, Amsterdam's museums rank among the city's most popular visitor attractions; the Rijksmuseum, the Van Gogh Museum and the Anne Frank House are home to fine historical artifacts and works of treasured art. Shopaholics will have no trouble filling their suitcases. From trendy, modern and luxury shopping along the Utrechtsestraat , to vintage and second-hand stalls at one of the many open-air markets like the Albert Cuyp Market, you will not be disappointed when shopping in Amsterdam.

Rome
from

£132.83

Rome. The fabled Eternal City. When on a weekend break in Rome, explore the many famous historic sites of this great Italian city. Wonder in the classic beauty of Rome's historical buildings and the enduring landmarks of the Roman empire: from the Colosseum to the Imperial Forums. From the Vatican City to the beautiful Piazza di Spagna. Experience Michelangelo's creation of Adam as you explore the Sistine Chapel and wander through Raphael's Rooms.
For an unforgettable shopping experience in Rome, head to Via dei Condotti and Via Borgognona where you will find the top designer boutiques such as Armani, Gucci and Prada. Porta Portese is very good for shopping and is particulary popular. It also has the famous Roman flea market which takes place every Sunday. There's so much to see and do on a Rome city break.

Barcelona
from

£165.54

It's not hard to see why the amazing Catalan city of Barcelona is now high on everyone's list of must-visit destinations. The city has everything, from amazing gothic architecture and energetic street entertainment, to wonderful bars and restaurants, non-stop nightlife, and even a sun-kissed beach.
Second only to Gaudi's gothic cathedral Sagrada Famillia for popularity, the pedestrian Les Ramblas is one of Barcelona's true hot-spots. Lined with dozens of outdoor cafes, it also has an abundance of stalls and kiosks, plus some amazing street entertainment including jugglers, singers, dancers, puppeteers and more. It's breathtaking, and really does have to be seen to be believed.

Prague
from

£131.12

Visitors on weekend breaks to Prague will marvel at the fascinating architecture covering the Roman, Gothic and Renaissance periods. Built along the Vltava River, Prague's historical centre is made up of four quarters; the Old Town (Stare Mesto), New Town (Nove Mesto), the Lesser Town (Mala Strana) and the area around Prague Castle (Hradcany).
As you wander around in the historic center of Prague, you will likely encounter small silver plaques that say "Silver Line Golden Prague." These plaques are embedded in the ground near historical Prague tourist landmarks, and are linked in a path that can be easily walked in a day.
When on your Prague city break, you should take a boat trip along the Vltava. Sailing under Charles Bridge you will be treated to wonderful views of historic monuments including the St. Agnes Monastery, the Rudolfinum, the National Theatre, Vysehrad and much more.

Madrid
from

£110.67

Visitors on city breaks in Madrid will be delighted with its numerous sightseeing attractions, city walks, galleries and museums. The Spanish capital city is best known for its art museums and the "Golden Triangle"; the Reina Sofía, Prado and Thyssen-Bornomisza. These three museums are linked by the fabled Art Walk, Paseo del Arte. With Spain's national theatre and orchestra based in Madrid, numerous concerts are often held in many small, but delightful, venues like the Fundacion Juan March. As well as art and culture, Madrid offers visitors fine dining, shopping and a vibrant nightlife. From shopping on the Puerta del Sol or El Rastro, the Sunday street market, to specialist bars featuring live jazz or flamenco, there'll always be something to keep you entertained.
Book your long weekend or short break in Madrid and experience its unique sights and sounds.

Dublin
from

£153.67

A popular destination for a city break is Dublin, a historical and contemporary cultural centre. The top attraction on a weekend break in Dublin is the Guinness Storehouse in St James's Gate. You can find out about the history of the famous ale and see how it is made.
Other popular attractions when on Dublin city breaks are the National Gallery with a fine collection of paintings by Caravaggio, Monet and Picasso, and the National Museum of Ireland with its displays portraying Ireland's social, political and military history.
Alternatively, experience Dublin as the locals do. Visit Temple Bar, Dublin's cultural quarter and one of the city's most charming neighbourhoods. Its cobblestone streets, bars and art galleries provide a change of scene.

Hamburg
Hamburg is also the centre of Northern Germany. Built along the River Elbe, it is a shopping and cultural metropolis. When on a weekend break in Hamburg a boat trip is a must. A boat trip will allow you to see the "Speicherstadt", trade depots, used to store coffee, tea; tobacco, spices and many other products. Lake Alster is also a great place to spend a day, enjoying the numerous sculptures, variety of trees and open spaces, or to simply sit in one of the cafes.
Culture lovers on a city break in Hamburg will appreciate the wide selection of museums and galleries to explore. The Museum of Hamburg History provides history buffs in-depth information about the region, dating from the Middle Ages. A trek along the "Art Mile" is highly recommended with many art-related attractions and galleries such as .
For the shopaholics Mönckebergstraße is the place to go. The boulevard of shopping dreams impresses many a shopper with its variety of goods for everyone's taste and budget.

Vienna
from

£214.02

Vienna is spread along both sides of the Danube, one of Europe's most celebrated rivers. Book your city break to Vienna and marvel at its eclectic mix of revivalist and Baroque architecture combined with graceful art-nouveau buildings.
Visit one of the many world-class museums along Ringstrasse such as the Kunsthistorisches Museum has works of art by Bruegel, Rembrandt and Caravaggio or the Museum of Applied Art that has a massive collection of Rococo Baroque and Jugendstil furniture. Make sure you stop and enjoy one of the city's superb pastries with their flavoured fruit or black teas.
The Innere Stadt (The Old City) is the heart of Vienna, where the city's main attractions are located. As a pedestrian zone, it's also a great place to stroll. Visit St. Stephen's Cathedral and climb its famous bell tower, or shop along Karntnerstrasse, Vienna's main shopping street. Other popular sights include the Hofburg Palace, the elaborate Austrian National Library and the Burgkapelle, home of the Vienna Boys Choir.

Copenhagen
from

£179.72

Copenhagen, the Danish capital, is considered the most fantastic city in the Scandinavian region; a compact city with an efficient public transport system. When on a weekend break to Copenhagen, you can easily experience the city and its many sights and attractions.
Being home to the oldest monarchy in the world, a popular attraction is Amalienborg Palace, the winter residence of Queen Margrethe II that sits in the center of Copenhagen. Other attractions include the The Little Mermaid and Tivoli Gardens. Alternatively, take a canal tour that passes by many of the popular sights. The area of Frederiksberg is Copenhagen's theatre district. and has many green parks and shopping areas, as does Østerbro. where you'll find the longest pedestrian street in the world. Nørrebro is Copenhagen's multicultural area and is a hub of cafes, shops, restaurants and nightlife.
Book your city break to Copenhagen for the summer and experience "white nights"; the period when the sun is still out at "night-time". That way, you get to stay out late and experience more of what Copenhagen has to offer.

Stockholm
The Royal Capital of Sweden, Stockholm is a city built on 14 islands, so wherever you are you are never far from water. Sometimes referred to as the Venice of the North, Stockholm is the perfect destination for city breaks, weekend breaks or longer stays all year round.
In the city, well-preserved medieval buildings stand alongside modern architecture. Go back 700 years as you wander through the narrow streets of the Old Town Gamla Stan or visit one of its many museums and art galleries, the most renowned being the Nationalmuseum, with Sweden's largest collection of art.
Just outside Stockholm, there is an archipelago of numerous islands just waiting to be explored, such as Östermalm, the poshest district of Stockholm with its wide boulevards, fancy shops and exclusive nightlife, the playground for the rich and famous. Södermalm is Stockholm's vibrant and bohemian district, famous for its bars, restaurants and clubs.
Offering history, culture and entertainment, Stockholm city breaks offer something for everyone.

Zurich
Set on the shores of a beautiful lake with snow-clad mountains forming the background, a weekend holiday in Zurich makes a perfect getaway. Urbane travellers who savour the finer things in life will appreciate the neatness of the city and the quality that oozes from the boutiques and promenades in this global financial hub.
Visitors can spend days wandering through the cobblestone streets of Niederhof or enjoy a cup of coffee while being entertained by street performers. Culture lovers will adore the Swiss National Museum and the Kunsthaus Zürich, Zurich's Fine Arts Museum. Children of all ages will enjoy a visit to the Zurich Zoo where a variety of endangered species can be seen. Shoppers will be spoilt for choice walking along the elegant boutiques along Zurich's Bahnhofstrasse, one of the most beautiful shopping areas in Europe. And once the sun sets, you can let your hair down in the dozens of bars, clubs and restaurants that thrive in the city.

Budapest
City breaks in Budapest are growing in popularity due to its relative inexpense coupled with its numerous historic and cultural sights.
Boasting nearly 100 thermal wells and 12 spas, booking a weekend break in Budapest is ideal for a relaxing holiday in a spa and wellness hotel combined with refreshing massage treatments.
More than 100 hundred museums welcome tourists to Budapest. The largest, the Hungarian National Museum is home to the Crown of St Stephen, first king of Hungary and the Coronation Jewels. The Budapest Opera House is not only cultural venue but a beautiful architectural sight.
Shoppers will delight in what's on offer. The inner city, Váci utca and Andrássy út is home to several stores selling world-famous designer brands. For more authentic Hungarian gifts, visit the Central Market Hall at the Pest end of the Liberty Bridge (Szabadság híd).

Helsinki
Though not the best known of the European capitals, Helsinki is a wonderful destination for tourists, where Eastern and Western cultures meet. Booking a weekend break in Helsinki offers a number of great attractions, and because the city is not so large, it is relatively easy to get around.
Visit the Suomenlinna, an inhabited sea fortress built on six islands. The Sibelius Monument in Sibelieus Park is another popular attraction.
With much to see and do, a city break in Helsinki is sure to leave you with many wonderful memories.

Tallinn
Tallinn, the capital of Estonia, is a bustling, gleaming metropolis located in the north-eastern part of the Baltic Sea region. In amongst its cosmopolitan nature, Tallinn maintains a quaint, inner charm that is to be experienced.
When you book your city break to Tallinn, you'll not be short of things to do and places to visit. Tallinn's famous Old Town has been well preserved. Experience a medieval atmosphere strolling through ancient cobblestone streets, with the bigger roads converted into fashionable shopping streets.
Estonia's interesting historical heritage influences the sights and sounds of Tallinn. The Toompea, also known as Cathedral Hill is a popular tourist attraction with its Castrum Danorum, The Castle and 2 cathedrals. Kadriorg, about 2km east of the town centre features Nevsky cathedral and St.Nicholas' Orthodox Church. The most popular attraction is Kadriorg Palace, former residence of Peter the Great now home to the foreign art collection of the Estonian Art Museum. Alternatively, if you are a fan of all things botanical, a visit to the Botanic Garden with its more than 8,000 different spices is a must.
In the evenings, the pubs and clubs in the old town offer you as much nightlife you can afford or achieve.